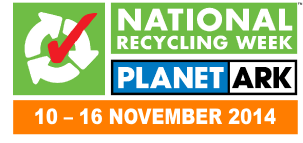 Australian Sustainability Calendar - November 2014
Here's a roundup of upcoming events on the Australian Sustainability Calendar for November 2014.
The idea of a solely plant based diet seems positively extremist and fanatical to many. But whatever your beliefs on health issues and animal welfare, it seems pretty clear that livestock farming is harming the planet in a big way. If you've ever harboured thoughts that it would be boring or unhealthy to make do without meat, Melbourne World Vegan Day exists to prove you wrong. If you're curious why not make your way the Melbourne Showgrounds on Sunday November 9th. You won't be disappointed. If you're interested in the case for a plant based diet to promote health check out the
Forks Over Knives trailer.
Melbourne Showgrounds
National Recycling Week - November 10th - 16th
Organised by the non-profit environmental organisation Planet Ark, National Recycling Week is now in its 16th year. Its aims are simple—to educate and promote recycling initiatives in the workplace and community. A good recycling system is one of the most important steps you can take towards making your organisation more sustainable. Find out how you can get involved by downloading the National Recycling Week Workplace Activity Guide
Organised by Diabetes Australia, Walk to Work Day encourages us to improve our physical health and reduce our impact on the environment at the same time. Can't walk all the way? No problem, they have some practical ideas for workarounds - so no excuses. Learn more here
How to Participate
. If you like the idea, you can go a step further and get sponsorship for whatever you walk during the month of November using sponsorship tools provided by Diabetes Australia.
Part of the Engineers Australia Convention 2014, the third PRCCC brings together engineers, policy makers, scientists, planners, academics, and others to review the latest research and practices helping us deal with climate change.
Melbourne Convention & Exhibition Centre
Business Enterprise Sustainability Forum - November 27th
Another event in the busy, Engineers Australia Convention 2014 calendar. This takes a look the broader aspects of enterprise and urban sustainability with panel discussions on:
Urban planning concepts
Doing more with less
Smart cities infrastructure
Funding the development and redevelopment of cities
Melbourne Convention & Exhibition Centre