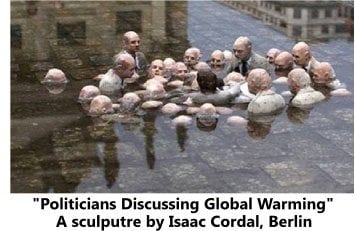 Forget Canvassing National Governments Over Climate Change - Talk to Your Mayor Instead
Here in Australia there's a sense of dismay and disbelief in some quarters at our national government's hostility towards sustainability initiatives and action on climate change. Plans to turn priceless Tasmanian heritage forests into timber for boardroom furniture and the Great Barrier Reef into a toxic sludge dump are proof, critics believe, that Canberra is just a nest of termite capitalism. Others say our government is just honest about its intentions. The rest of world's national leaders pay lip service to carbon reduction and safeguarding the environment, but in actual fact do little. The government's defenders do have a point. So far, only a tiny handful of national governments have wrought meaningful change at home. Only a few have the political skill and moral courage to even try to lead an entire country of voters in the difficult, expensive struggle in reducing consumption and fossil fuel dependency. They fear too much for their jobs and perhaps with good reason. But could it be that national governments are as irrelevant in the struggle to save the planet as they seem to be impotent? Some think so.
The Real Climate Change Battlefield is the City
"How can there be any argument against prioritizing cities?" asks Eduardo Paes, mayor of Rio de Janeiro and
C40 Climate Leadership Group
chair, "Nations are not delivering". Here are a few interesting facts about cities:
Over the next 20 years global city populations will increase by 1.4 million every single week. Annually that's 72.8 million, more than the current population of the UK and three times that of Australia!
Cities are home to more than half the world's population.
Cities account for 75% of all economic activity and 70% of all greenhouse gas emissions.
With these facts in mind it's easy to follow the logic of a recent article in
Scientific American
titled, "Cities Will Solve Climate Change, Not Nations". The article sheds light on real initiatives to combat climate change that are already under way in some of the world's largest cities who are prepared to go much further than their national governments.
The C40 Cities Climate Leadership Group (C40)
is a network of the world's mega cities committed to addressing greenhouse gas emissions and climate risk. Now comprising 69 cities, including Sydney and Melbourne, it represents some 500,000 million of the word's biggest consumers and heaviest polluters. An important thing to know about city administrations is that their imperative for change is more urgent than it is for national governments. Most of the world's major cities are coastal and situated on major waterways, so as sea levels rise and weather patterns change, city residents will be amongst the hardest hit. Cities also compete actively to be more liveable than their neighbours. In addition to managing flood defences, city governments look after air quality, regulation of vehicle pollution, public transport, building regulations, city planning, continuity of power supply and waste management. City level policies in all these areas have direct implications for sustainability. And at the head of each city government is the city mayor.
Cities Leading the Way
One example of a city that's delivering real results while its national government merely talks is New York City. Since 2005 it has already cut emissions by 19 percent. "We have strong constituencies we can't hide from" says Bill de Blaiso, New York City mayor who is proudly continuing where his predecessor Michael Bloomberg left off, "We are accountable in a way that national leaders are not", says Mr de Blaiso. New York City is one of fifteen in the C40 group that has already pledged to cut greenhouse gas emissions by at least 70 percent by 2050. Some of China's major cities are also working hard on sustainability projects. Shenzhen, one of the country's biggest industrial hot spots, has reduced annual CO2 emissions by 2.5 million metric tonnes thanks to a city wide carbon trading market, where companies buy and sell emission permits. Similar fledgling exchanges are now in place in Beijing, Chongching and Shanghai. Tangible sustainability initiatives in other cities around the world include electric car sharing programs (Paris), alternative fuel vehicles, steps to eliminate methane from landfill, recycling and refurbishment of buildings and measures to reduce urban sprawl. Here in Australia, Melbourne has an ambitious commitment to reduce emissions to zero by 2020. Critically, city mayors wield far more direct control over their wards and are much more able to deliver quickly than their national counterparts. In tandem with the C40, another global initiative for cities is the
Compact of Mayors
. Recently the Compact of Mayors secured a pledge from 228 member cities to cut annual emissions by 2 billion tonnes, and another from 25 major cities to eliminate methane emissions from landfill sites (Methane is 100 times more potent than C02 within the first 20 years of release). An upbeat projection from the C40 asserts that its members can reduce greenhouse gas emissions by 13 billion metric tonnes by 2050 over and above anything achieved by national governments. To put this in perspective, global C02 emissions from fossil fuel usage totalled 39.6 billion metric tonnes in 2013. So in other words the C40, which remember is a group of willing participants, reckons it can reduce C02 emissions by one third of current levels!
What Can We Do?
Outpourings of shame and disgust at some of our national policies on sustainability are plain to see on just about social every media channel and these are understandable. But if we want to see change, then our local governments are more likely to be receptive and responsive. They seem to be more capable than national or state politicians. Australia is one of the most urbanised countries in the world with 89 percent of our population contained within five sprawling cities. Let's try talking to the politicians that really count, our local mayors and councillors. If our cities act, then by default the country must follow. What do you know about your local city mayor and local councillors? Make a point of learning more about them. Communicate with them directly about sustainability issues and upping their participation and commitments to the C40 and Compact of Mayors.