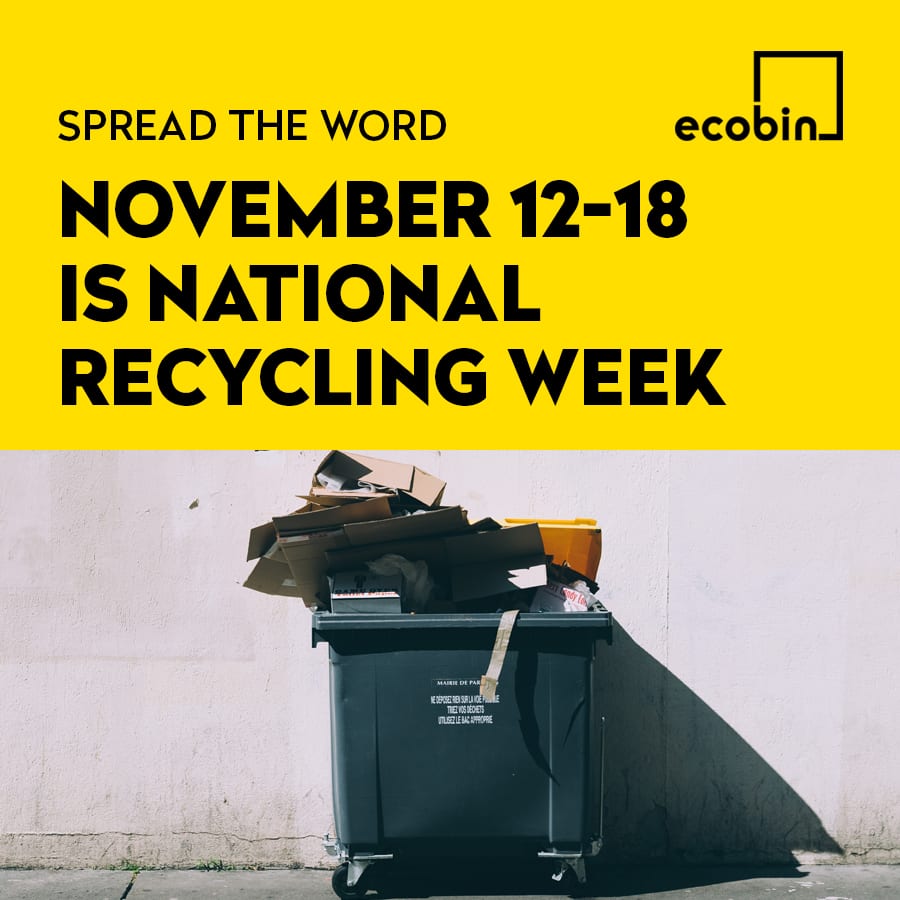 From Monday 12
th
November to Sunday 18
th
November 2018 we celebrate National Recycling Week. This is a week that we get particularly excited about at Ecobin HQ… after all it's what we're all about! National Recycling Week is a time where we can shine a light on the importance of recycling our waste in the correct manner, and how every small change that is made reduces items heading into landfill or our oceans, ultimately leading to the longevity of our planet. It is also a time to celebrate the amazing wins that we have had through raising awareness around some of the destructive behaviours we were undertaking. Some of the positive changes that have been put in place are:
Single use plastic bags have been banned in Woolworths & Coles Supermarkets
McDonalds, Starbucks and other service businesses have committed to phasing out the use of plastic straws in their restaurants and cafes.
Most cafes now offer keep cups for purchasing, and many people now take their own keep cups to cafes for their take away coffees
Toner cartridges are able to be recycled for free through using the Cartridges for Planet Ark drop off points
Soft plastics can now be recycled correctly through using bins in your home or office such as the Ecobin Soft Plastic Recycling Bins, and then the contents of the bins can be dropped off at the REDcycle drop off points at Woolworths & Coles supermarkets.
Although it is great to see the changes we have already made, we still have a long way to go before we start to undo the damage that's been done to our planet through our trash. It is so important to remember what items we can and cannot recycle – if you put the wrong item in your recycling bin you will contaminate the whole bin, and all your recycling efforts would have gone to waste! Below are a few key things to remember when it comes to what you can and cannot put in your kerbside council recycling bins; Items that CAN go in your recycling bin;
Paper & Cardboard
Egg Cartons
Metal Cans
Glass Bottles
Glass Jars
Plastic Container
Milk Contains
Items that CANNOT go in your recycling bin;
Soft Plastics
CDs/DVDs/Videos
Food Scraps
Crockery
Batteries
Mobile Phones
Clothing
Printer Cartridges
Coffee Pods
The Ecobin team have been recording a video a day this week to help everyone better understand what can and cannot go into our recycling bins, so if you haven't already make sure that you head over to our
Facebook page
and check them out!