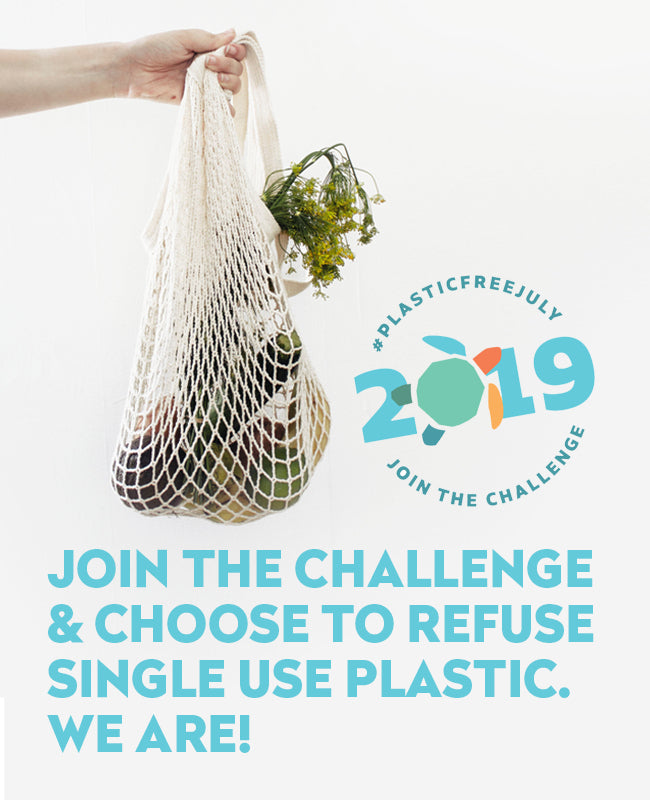 Plastic Free July is a worldwide celebrated campaign that provides aid by ensuring the participation of millions of people for the solution to the plastic pollution in order so we can have pristine streets, oceans and beautiful communities. It provides methods and schemes to lessen single use plastic everyday such as plastic bags, straws and most food packaging used at home, work or school.
This campaign has motivated over 120 million participants in 177 countries. With a single person making a small contribution will macroscopically makes a huge difference to the mankind. Through this campaign, many people can opt to refuse single use plastics in July (and beyond). The best part of joining this movement is that it will help us discover considerable substitutes and replacements that can ultimately become a part of our daily routine - huzzah!
The great news about this campaign is that anyone can participate by beginning small and then further challenge themselves for a bigger contribution, much more effective than the last. Here are some of the easy tips and challenges everybody can practice to be a part of this eco friendly campaign.
Wrapped Vegetable and Fruits - Most supermarkets wrap their fruits and vegetables beforehand in plastic. We can choose to refuse pre-packed fruit and vegetables. Purchasing plastic wrapped fruits and vegetables can be convenient but unfortunately it leads to plastic waste. Alternatively, we can look beyond the sea of plastic wrapped avocados and strawberries and purchase loose fruits and vegetables in our local supermarkets or perhaps buy them from a farmer's market or organic store where plastic pre-packaging is avoided or less often used.
Takeaway Coffee Cups – 99% of takeaway coffee cups aren't recycled. We can invest in a sturdy reliable vessel which can then be used again and again.
Plastic Shopping Bags – Plastic bags can be easily replaced by Jute or hessian bags, canvas or calico bags, cotton tote bags and of course reusable paper bags for a more light weight loot.
Plastic Straws – We can request our drink without a plastic straw at bars, restaurants or cafes and bring our own reusable alternate instead. There are plenty of those available these days like bamboo straw, glass straw, silicon-stainless steel straw etc.
Bin Audit - Bin audit is a great way to see how much plastic we dispose in our home, school or workplace. We can opt for a comprehensive audit, weighing all the rubbish or go for a simple audit and just count the number of plastic items.
Plastic Free Picnic – Everyone loves a picnic. Eating outside, enjoying the fresh air and sunshine always make us feel great, however we need to think how much disposable plastic can go into a picnic? Plastic spoons, plastic cups and plastic containers of food can turn the bewitching and glamorous picnic spot into a stack of plastic trash, and ruins the aesthetic beauty of the spot. So replacing all of the above to their reusable substitutes will keep plastic from landfills and our public spaces cleaner than ever!
Bin Liners – A Bin liner is a disposable bag used to contain rubbish. Plastic bin liners destroy the environment but modern and ethical thinking can bring a change in that. There are substitutes for plastic bin liners like padding the bin with a few sheets of paper on the inner side, use of ratified compostable bin liners or treating the bin as a naked bin and regularly washing it out as per our needs.
Beach/park clean up - An instant and productive difference can be brought up in the environment by cleaning up a local park or beach by gathering our families and friends to contribute collectively for the good of it. To start with, we can assemble as a local clean-up team in our community. This is one of the best ways to bring people together with a common goal in mind which increases the productivity of the output.
Plastic Water Bottles – We can easily avoid using plastic water bottles by buying a reusable water bottle. This would eventually end up minimising the plastic waste that ends up in landfills.
Engaging the Community – Inspiring our community is a convenient and an easy-going process. All we have to do is to spread the good word of the growing impact of Plastic free July.
Reduce, Reuse, Recycle – These three R's (reduce, reuse and recycle) can really help us create a better future. Using the three R's will also help to cut down the amount
of single use items we purchase and reduce the amount of waste we're producing
. Plus, the three R's conserve natural resources, landfill space and energy.