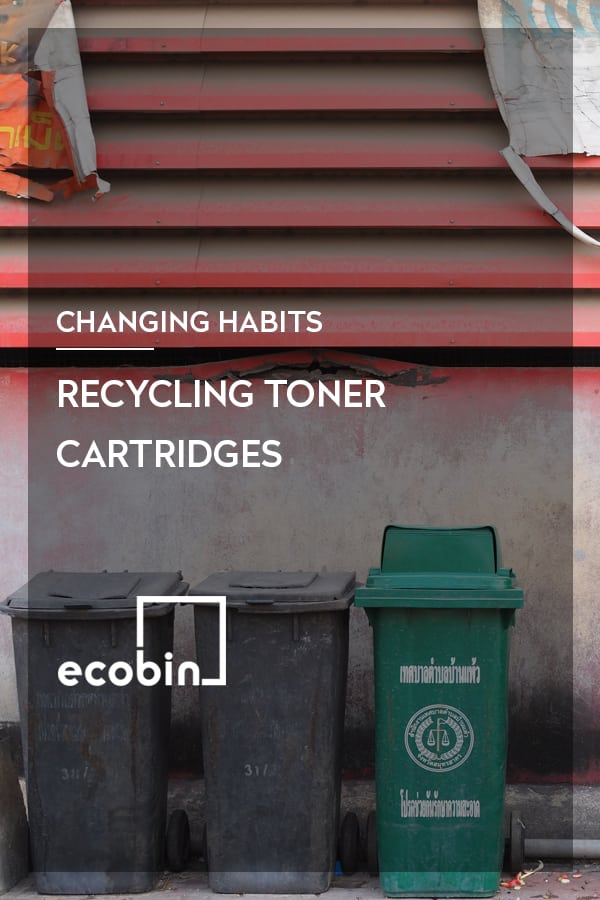 Recycling Toner Cartridges
Toner Cartridges are found in nearly every office, school and home across the country and are made up of a complex combination of plastic, foam, metal, ink and toner which means they cannot be placed into your normal recycling bins as they are classified as electronic waste. There is a staggering amount of toner cartridges that end up either in the wrong recycling bin, or are placed in the general rubbish bins and therefore they end up in landfill. Australians now produce about 50 million tonnes of waste each year, averaging over 2 tonnes per person.
As our population is steadily increasing, so too is the amount of waste being generated per person, per year.
What are the dangers we are facing from items ending up in landfill?
The three biggest environmental dangers are; 1)
Leachate:
a liquid formed when waste breaks down at landfill sites. This liquid is highly toxic and can pollute our waterways and soil. 2)
Greenhouse Gases
: these are created when organic material such as food scraps and green waste are put in landfill. This is due to the fact that it is generally compacted down and covered which inhibits the promotion of oxygen and causes the organic waste to break down without air. Eventually this releases methane, a greenhouse gas that is 25 times more potent than carbon dioxide, and the implications for global warming and climate change are enormous. Methane is also a flammable gas that can become dangerous if allowed to build up in concentration. Composting your food scraps and green waste in a compost bin such as the
Ecobin Green Organic waste bins
helps to eliminate this problem. 3)
Toxic chemicals
: these are often contained in items misplaced into general waste – especially electronic waste items such as computers, televisions etc. These items often contain dangerous chemicals such as mercury, arsenic, lead and acids which then penetrate our soil and water sources, ultimately poisoning them with these hazardous substances. In order to help prevent toner cartridges in your office, school or home ending up in landfill it is important that you recycle them properly.
How do I recycle my toner cartridges?
Toner cartridges can be recycled through Cartridges 4 Planet Ark which is an innovative recycling program that provides Australians with a free, easy and environmentally-accredited way to recycle their used printer cartridges. Planet Ark has partnered with Close the Loop and various other toner manufacturers to work together to recycle and repurpose used toner cartridges and stop them from going to landfill. Close the Loop and Red Group have also partnered together to reseal a suburban street in Craigieburn with a product called '
Plastiphalt
' made from 176,000 plastic bags, 55,440 glass bottles and 3960 used printer cartridges.
How do I obtain Planet Ark toner recycling box?
The great news is that if your office, school, community group etc. uses more than three toner cartridges, toner bottles or inkjet cartridges per month you may be eligible for a free Cartridges 4 Planet Ark box to put in your workspace.
Click here
for further details on the recycling boxes or to apply for yours now.
How are the toner recycling boxes emptied?
Cartridges 4 Planet Ark have been offering a free collection and recycling program for over 15 years. Once the bag inside the recycling box is full of cartridges you can return them very easily using any one of the following methods; 1) Zip tie the bag (with the ties provided) and you can return it at no charge with a reply-paid sticker that will be provided to you. This can be either sent back through your office mailroom, or by dropping it at any Australia Post outlet. 2) If you have two or more full bags of toner cartridges you can book a pick up through Close the Loop's website or by calling the 1800 number provided.
Click here for further details
. 3) If you only have a few toner cartridges to recycle you can always drop them off at one of the retail collection partners such as Australia Post, Officeworks, The Good Guys and JB Hi-Fi. You can check out a full list of
collection partners here
.
Cartridges 4 Planet Ark's Target
To date Cartridges 4 Planet Ark have already recycled in excess of 39 million toner cartridges, and their aim is to reach 41 million recycled toner cartridges by the end of March 2019. Take the step now to help reduce landfill, and ensure that our planet can thrive and survive for future generations by introducing a toner recycling program into your workplace or school today.
https://blog.mraconsulting.com.au/2016/04/20/state-of-waste-2016-current-and-future-australian-trends/