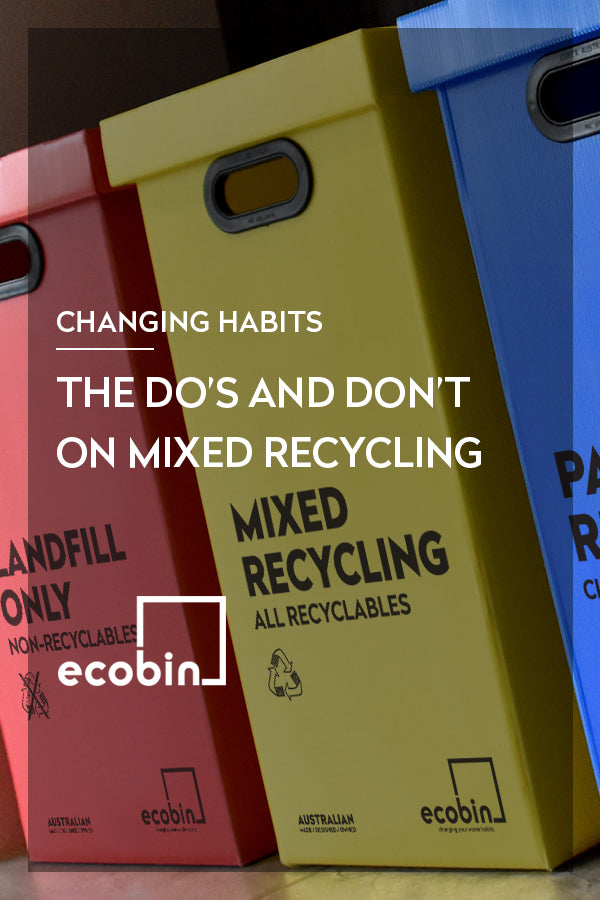 The Do's and Don'ts of Mixed Recycling
Co-Mingle Recycling, sounds delightful doesn't? All the plastic takeaway containers and chickpea tins enjoying each other's discarded company before they're taken for initial processing. That's how we like to imagine them in our Mixed Recycling bin anyway – living their best single-use life, waiting to be transformed into something EXCITING and COOL!
What can you put into your mixed recycling bin?
There are so many things that can go into your mixed recycling bins, some of which are;
Aluminium Cans
Appliances
Bike Parts
Carpet
Clean Cardboard
Clothing
Fiberglass
Glass Bottles
Lids from Coffee Cups
Milk & Juice Cartons
Newspaper
Office Paper
Plastic
What is not suitable for the mixed recycling bin?
A few things that you should make sure do
not
end up in your mixed recycling bin are;
Bubble Wrap
China
Cling Wrap
Coffee Cups
Drinking Glassware
Food
Paper Hand Towels
Polystyrene
Wrapping Plastic
What is made from plastic recycling?
These are some amazing things that are able to now be produced from recycled plastic. Items such as backpacks, outdoor settings, roads, clothes, playground equipment, fences, traffic cones and of course plastic items such as bottles, containers and packing materials. Ecobins range of Mixed Recycling bins and educational posters were created to help make your life easier, and take the stress out of recycling. Click below to view our range of products.