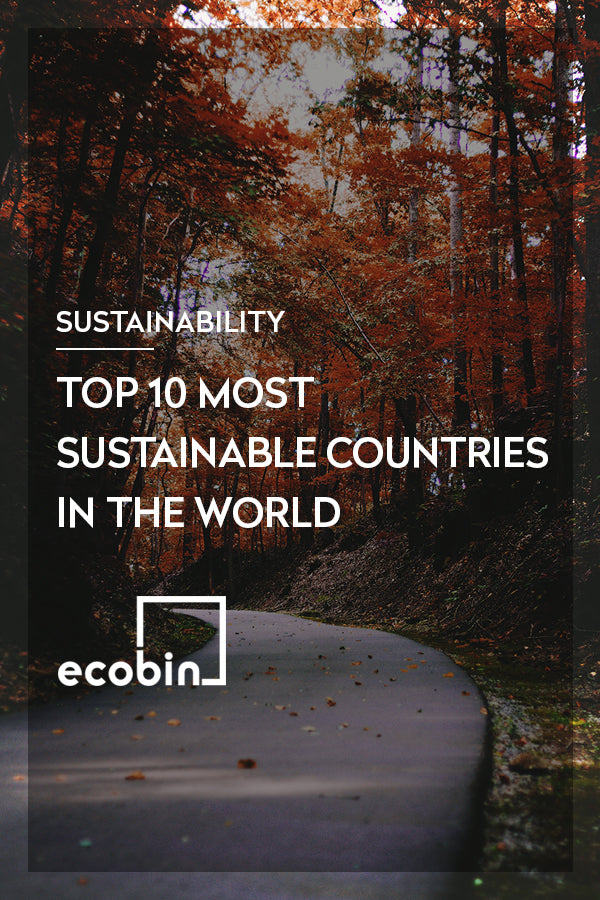 Top 10 most sustainable countries in the world
Which is the most environmentally friendly country? The answer to this question depends on who you ask. According to the Economic Co-operation and Development's Better Life Index, Sweden is the best followed by Australia, United Kingdom, New Zealand and Finland. However, this index only covers air pollution, water quality and other things that are closely associated with people's lives on a daily basis.
The other index which is most talked about and covers all the environment and sustainability factors of a county is called EPI, Environmental Performance Index. EPI was first created in 2001 by the World Economic Forum, Yale University and Columbia University. Initially, they called in ESI (Environmental Sustainability Index) and it consisted of 67 variables, which were structured into 5 components with equal weighting, and included 22 environmental factors. These environmental factors were evaluated between waste reduction, use of agrochemicals, water quality, emissions and concentrations of pollutants, energy consumption, energy efficiency, population growth, vehicle fleet and corruption perception.
The EPI began to develop in 2006 and by 2018 has undergone many changes in its reporting. In particular, the environmental health and vitality components of the ecosystem have changed the contribution of their ideas.
Their last index was released in 2018 and next will come in early 2020. In their last edition, they've included 180 countries. We were at number 21 and here are the top 10:
Switzerland

was a clear winner with a score of 87.42 in this race. They've focused on the production of resources by using renewable energy and promoting the green economy. Also, they've put into place various measures to ensure that the environment is kept clean and sustainable. The setting up of Alpine park is one of the steps they've taken. 94% of old glass and 81% of plastic containers were recycled instead of being tossed into landfills. Already 30% of Switzerland is covered with trees and forests and they continue to grow more due to which CO2 level is almost zero in the country.

France

is at number 2, with a score of 83.95. The improvisation in France's environment is mainly due to their shift away from industrialization during the past decades. Around 30% of their energy source is renewable. Good government policies are also the reason France is leading in this dashboard, the French government has actively supported green technology with the use of subsidies. In the agriculture sector, they are developing cleaner technologies to increase production with the least pollution.

Denmark

with a score of 81.60 is at the third position in the EPI 2018 list of most sustainable countries. 40% of their energy is produced through wind power, and they are hoping to make it 50% by 2020. There's no doubt that they are the world's leading wind turbine energy producer. The cycling culture gives a huge benefit to its people. There are just 2.1 million cars on the road for around 6 million total population, which signifies that more than half of Danish people do not own a car. They use the bicycle as their main mode of transportation.

Malta

is at number 4 scoring 80.90. Malta used natural gas as its primary source of energy. 70% of Malta's energy is created from natural gas and 30% from renewable sources. The Maltese government is very serious about its sustainable developments and are planning to reach all their sustainability goals by 2030. The other noticeable thing is that they ranked #1 for the water quality in the EPI index.

Sweden

is listed at number 5 among the greenest countries in the world with an EPI of 80.51. They've already planned to get rid of all the fossils fuel by 2020 and replace it with renewable energy to keep the environment protected from pollution. Sweden has partnered with its neighbouring countries to save the Baltic Sea and protect the ecosystem. Environment governance body is Sweden is very active which is the reason they are going greener day by day.

United Kingdom

with a score of 79.89 is at number 6. The collective efforts and actions of England, Wales, Ireland and Scotland have made this possible. London and Edinburgh, both in England have managed to be in the top 15 list of the most sustainable cities in the world. London alone has got 3000+ parks and more than 8 million trees. 47% of London is in green space.

Luxembourg

scored 79.12 with the seventh position in the index. Pressure on the environment and climate in the globalised world was one of their agenda at UN conference on sustainable development goals held in July 2017. They behaved very seriously towards the Paris agreement and reduced the greenhouse gasses drastically.

Austria's

score is 78.97 due to its continuing efforts to main the natural conditions of its environment. They are working really hard at waste management, chemical sector and air pollution control. They've put clear restrictions on the use of pesticides with the enhancement in their agriculture knowledge. Deforestation has been reduced and forests are being protected.

Ireland

78.77 score and what a reputation! Life quality, lowest crime, safe place and so many other things. With the contribution of fresh and clean air, clean water, rolling mountains and beautiful beaches, Ireland made its place in the top 10.

Finland

was at number 10 with

78.64. The country has got many eco-friendly hotels and green transportation. Finland people have always considered nature as their caretaker and in return take complete care of it.