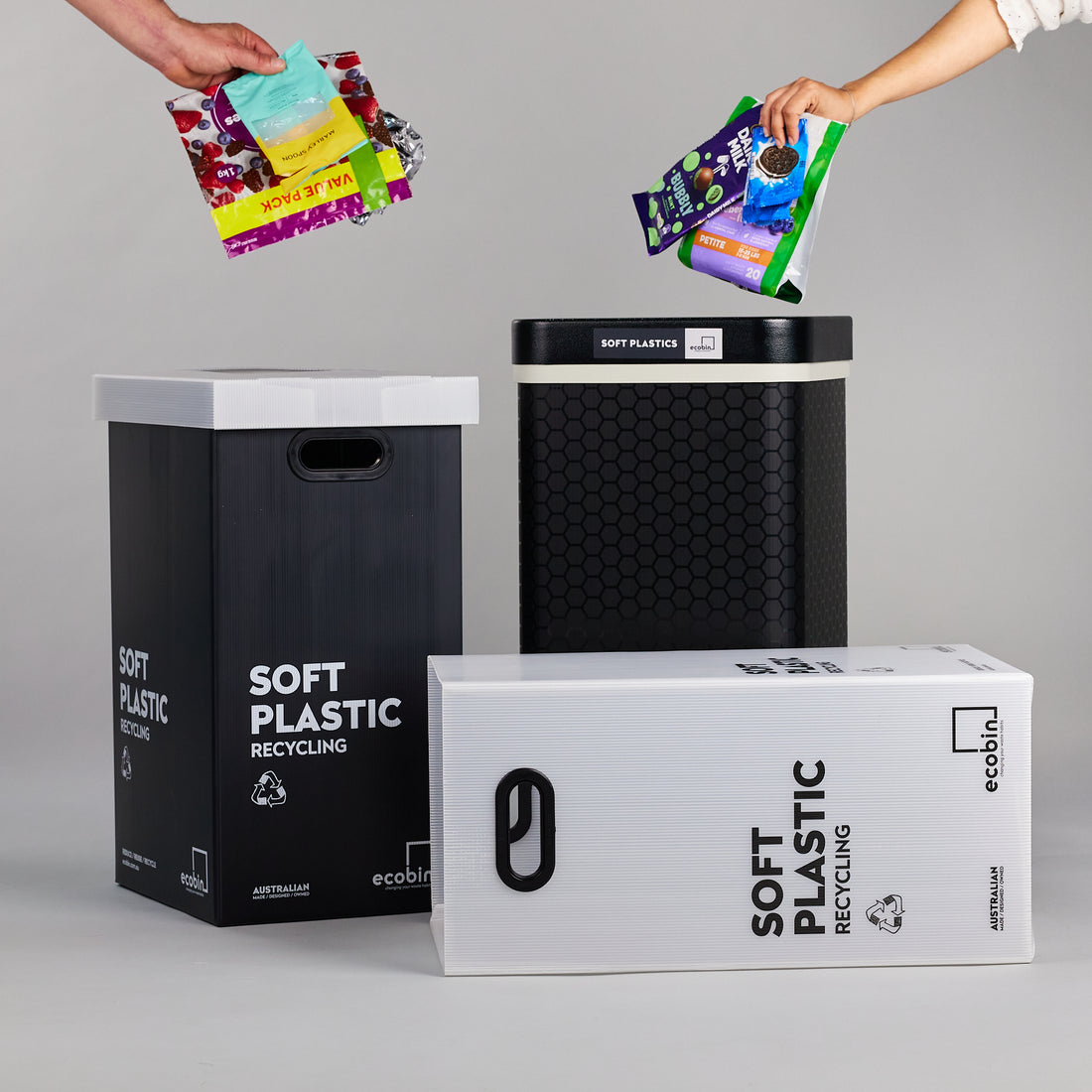 Wondering what to do with Soft Plastics? Ecobin to the Rescue!
 Let's face it, soft plastic is like that awkward acquaintance (or pesky ex) that happens to be everywhere you go. One minute, you're living Your Best eco-friendly-planet-loving Life and the next, soft plastic just shows up and just puts a dampener on everything. From those plastic bags to cling wrap and all those mysterious packaging materials that seem to multiply overnight, we can't escape it. But fear not, fellow environmental-enthusiasts, because we have a secret weapon: our determination to make a change! 
Enter: soft plastic recycling bins. Here to show that persistent omnipresent plastic who's boss and make a heroic, world-changing difference. By diverting these plastics from ending up in landfills, we can reduce pollution, conserve precious resources, and protect our beautiful wildlife and ecosystems.
In early 2023, Australians lamented the collapse of Melbourne-based Redcycle and the subsequent NSW EPA order for Coles and Woolworths to dump 5200 tonnes of stockpiled soft plastic into landfill. Many were left wondering if there were any landfill alternatives. We're pleased to say: there are indeed, with more opportunities coming our way.  
Many Australian councils and startups are already leading the charge by implementing soft plastic recycling programs. In NSW, city councils in Sydney, Central Coast, and Newcastle have introduced soft plastic recycling either through drop-off or kerbside facilities, and several private enterprises have since popped up, collecting waste both commercially and from homes, making dealing with soft plastics even more convenient.
Melbourne's Moonee Valley, Kingston and Monash councils have also joined in, alongside several small startups. Even up in Queensland, institutions such as the University of Queensland have begun to offer a soft plastic drop-offs on campus. Down in South Australia, the City of Adelaide is currently running a soft plastics recycling trial with residents eligible for kerbside collections. In the NT, there are several drop-off points including four in Darwin. The list goes on. Times are a-changin', folks.
But wait, there's more! Exciting updates are on the horizon as Woolworths, Coles and Aldi work together to launch soft plastic recycling initiatives in supermarkets across Australia, with a selective roll out scheduled for late 2023. With the growing awareness and demand for sustainable solutions, it won't be long before soft plastic recycling becomes the norm nationwide.
At Ecobin, we're chuffed to offer you our range of innovative soft plastic recycle bins. Not only are they practical and easy to use, they will also brighten your home or office. Say goodbye to mix-ups with regular waste bins forever! It's time to make soft plastic recycling a part of your daily routine, and we're here to help you every step of the way.
Ready to get started on your soft plastic recycling journey? Here are a few simple tips to kick things off:
Set up one of our attractive soft plastic bins. Make sure to give your plastic a quick clean and dry before recycling to avoid any contamination or mould (nobody likes mould).

Look out for the soft plastic recycling symbol which is handily-present on most packaging to identify its recyclability (common examples include plastic shopping bags, bread bags, chip packets and bubble wrap).

Take advantage of existing soft plastic recycling programs in your area. Reach out to your local council or recycling centres to find the nearest drop-off points. Extra brownie points: petition your MP or local councillor!

Spread the word! Share your new-found knowledge with friends, family, and colleagues. Encourage them to join you on this exciting journey towards a sustainable future.
Together, let's shape a future where soft plastics no longer end up in landfills. With Ecobin's bright and beautiful bins and your active participation in soft plastic recycling, we can create litter-free, cleaner, and more sustainable world for generations to come.
So, what are you waiting for? Join the soft plastic recycling revolution today and make a difference that truly matters.