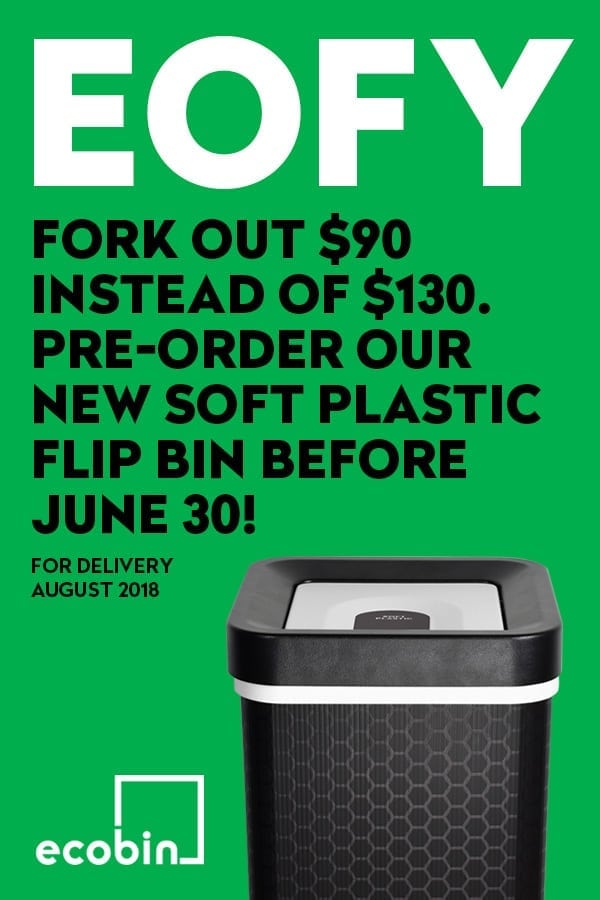 Amazing EOFY deal on our Soft Plastic FLIP Bin
We're flippin' out about this EOFY deal!
Can you believe that we're already half way through the year with June 30 creeping closer every day?! We know that this time of year can be particularly stressful in the workplace as everyone is gearing up for the End of the Financial Year and all the challenges that it brings, so we're here to share some exciting news with you to make your life just a little easier… A year on and our FLIP Range has well and truly carved its own following, so much so that a small army of fans have been requesting we add a Soft Plastic Waste Separation Stream to the Range - so we have! Available now on BACKORDER, for Delivery in August. Hurry the clock is ticking!
This dapper guy would love to join your office and help you all have a place to put all the pesky soft plastics that otherwise end up in landfill, and with our amazing EOFY deal you can save $40 when you pre-order before June 30, 2018. How great is that?! In one of our previous blog posts
How to Recycle Soft Plastics
we have shared the issues surrounding the incorrect disposal of soft plastics and how they are the number one contaminator in our recycling today, meaning that they can't be processed into beautiful new sustainable products and are ending up in landfill which is heartbreaking when this one time plastic could otherwise get a second life recycled into something new. Astonishing amounts of soft plastic are chocking our land and waterways, start a Soft Plastic diversion Plan in your organisation. Add the new FLIP Soft Plastic bin to your waste stations and not only will their sleek and suave appearance compliment your interior fit out, but you'll also be saving money, reaching EOFY targets and helping sustain life on this planet we call home. #winning